ABOUT DATARCH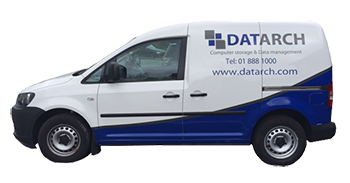 Datarch was established in March 1996 and is a wholly owned Irish Company. Our directors and technical support staff have a long history and experience in data provisioning.
Datarch have developed partnerships with a number of strategic company's to enhance our solution and service delivery options. The combination of experience and our partnerships have allowed us to provide successful storage strategies to customers over the past 20 years. Datarch has grown and matured with the industry and this growing customer base has extended throughout Ireland to Europe, Middle East and America.
Data Management and Retention are now receiving an ever increasing profile. Organisations are now beginning to look more closely at how they maintain and more importantly how to quickly they retrieve valuable business information.
Datarch recognises the importance of a secure long-term archival storage strategy. For this, we provide our customer with a complete service delivery programme. We can provide you the customer with Data Management Strategies allowing you to preserve, protect and retrieve your data, your most valuable asset.
Datarch are now one of the few totally independent storage and service providers in the Irish market place this allows us to pick the best technology as we are not restricted to what any one manufacturer has to offer in a particular area.
Datarch are a leading Strategic Data Management provider within the Irish Marketplace.
DATARCH Ltd.
Unit 36 , Block H
Southern Cross Business Park ,
Boghall Road ,
Bray
Co. Wicklow
A98 K763
[ VIEW MAP ]
Telephone: +353-1-8881000
Fax: +353-1-8881001
Email:
Total Views: 9432 ,