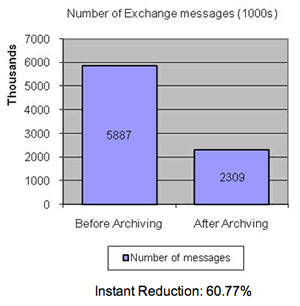 One of the major reasons that any customer should conduct an initial storage assessment or audit is to establish a starting position or "baseline ". This baseline information is then used as a reference against which improvements in performance over time can be measured.
A Datarch File System Assessment service can provide you with your own unique, automated "data profile".
Customers who have used this service have discovered;
30-40% of static data is archive-able content (for files 1 year or older)
50%+ of static data is archive-able content (for files 181 days or older)
Data growth rates between 60 and 300% year on year
5-10% of data consist of duplicate files
File Audits Datarch provides in depth reporting and a recommended course of action for your current and future storage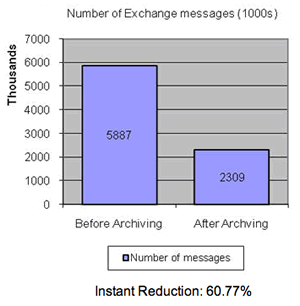 needs focusing on the following areas :
Static systems
Systems with new storage creation
Least modified systems
Systems with large duplicate files
Top Volumes by Percentage used
Most modified systems
Most accessed systems
Top Systems by Total Space Used
EMAIL AUDITS
In addition to file system reporting Data also provide E-mail analysis which can accurately predict load reductions on Exchange servers based on the deployment of E-mail archive solutions. The charts on the right show the real overhead reduction on the exchange server of a large financial institution.
DATARCH Ltd.
Unit 36 , Block H
Southern Cross Business Park ,
Boghall Road ,
Bray
Co. Wicklow
A98 K763
[ VIEW MAP ]
Telephone: +353-1-8881000
Fax: +353-1-8881001
Email:
Total Views: 5713 ,